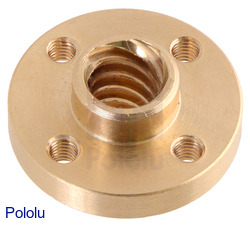 Traveling Nut for TR8×8(P2) Threaded Rod.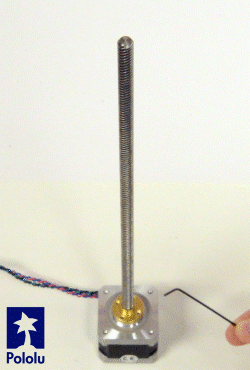 When the nut is prevented from rotating, it travels up or down the rod as the motor rotates.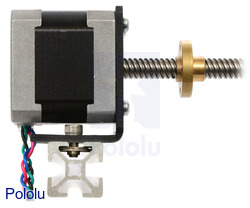 NEMA 17 stepper motor with lead screw mounted with a stamped aluminium L-bracket.
This copper alloy traveling nut (also known as a carriage nut) features a mounting flange with four holes threaded for M3 screws. It is intended for use with Tr8×8(P2) leadscrews, which are 8 mm-diameter rods with four independent trapezoidal threads spaced 2 mm apart. One full revolution of such a rod will result in a 8.0 mm linear displacement of the traveling nut.
This is the same traveling nut that is included with our NEMA 17-size stepper motors with lead screw:
Please note that the nut is not spring loaded, so changes in direction will result in loss of positioning precision due to backlash.
Dimensions for this nut are shown in the diagram below and are included in the datasheet for the stepper motor with 28cm lead screw, which is available as a downloadable PDF (63k pdf). Units are mm.