Overview
The mini-motor gearbox kit from Tamiya makes it easy to get a small robot or plastic model moving. The kit includes one brushed DC motor and all the gears and parts to build any of the four possible gear ratio configurations: 71.4:1, 149.9:1, 314.9:1, or 661.2:1. The four gear ratio options give you the flexibility to choose the best speed and torque for your project.
The gear train of the low-speed gearbox includes a self-locking worm gear, which means the gear train can not be back-driven (the motor can spin the output axle in both directions, but you cannot turn the output axle with your hand). Not being able to back-drive the gear train is useful when powering vehicles that stop on steep inclines, or when powering mechanisms that lift heavy objects off the ground (like gates or drawbridges).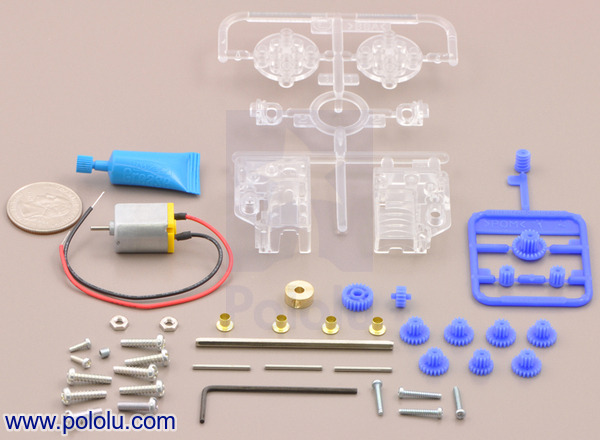 Parts included with the Tamiya 70189 mini motor low-speed gearbox (4-speed) kit with quarter for size reference.
The kit includes step-by-step illustrated instructions in both Japanese and English. A scanned copy of the instructions is available on the Pictures tab. The kit can be built with just a screwdriver, but the instructions recommend having side cutters, tweezers, and a modelling knife on hand. The gearbox kit's motor has a 030 form factor that is smaller than the Tamiya gearboxes that use the Mabuchi FA-130 motor.
Features
030-form-factor motor

Speed @ 3 V: 8400 RPM
Free-run current @ 3 V: 60 mA
Stall current @ 3 V: 600 mA
Stall torque @ 3 V: see picture to the right for torque table

4 different gear ratios, which can be adjusted by changing the final gear position

71.4:1
149.9:1
314.9:1
661.2:1

Self-locking worm gear prevents gear-train from being back-driven
3 mm hexagonal output shaft compatible with our adaptor for LEGO wheels and many of Tamiya's wheels.
Two mounting orientations
Mounting holes designed to work with the Tamiya 70098 universal plate set and other Tamiya construction series products.
Transparent gear housing shows the internal mechanisms
Compact size of approximately 20 x 24 x 30 mm (0.8" x 1" x 1.2")
Note: The Tamiya 70189 mini motor low-speed gearbox (4-speed) is a kit; assembly is required.