First prototype of a desk fan that can be controlled by hand gestures instead of a switch around the back.
With many fans you have to reach around the back to turn them on and off. Using a simple infrared sensor this fan can be turned on and the airflow adjusted by pushing or pulling at the air.
In the middle of the fan is a sharp infrared sensor. Some string is tied to the grill so air movement can be seen in a video.
Warning - This sounds super annoying
. The motor driver creates all kinds of horrible resonance in the all metal fan so turn the sound down if you don't like the sound of fingers down a chalk board. A smaller plastic fan and either faster or slower PWM frequency for the motor driver would be better but this is a first go.
https://youtu.be/Pgs7-Pvl0S4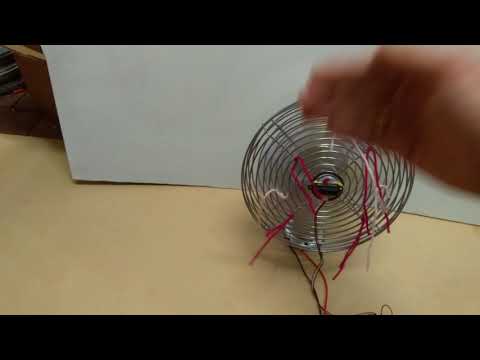 The fan is controlled using a pololu a-star micro, MAX14870 single motor driver and a Sharp Analog IR Distance Sensor GP2Y0A41SK0F.
https://www.robotgear.com.au/Product.aspx/Details/934-A-Star-32U4-Micro
https://www.robotgear.com.au/Product.aspx/Details/4561-MAX14870-Single-Brushed-DC-Motor-Driver-Carrier
https://www.robotgear.com.au/Product.aspx/Details/851-Sharp-Analog-IR-Distance-Sensor-GP2Y0A41SK0F-GP2D120-4cm-30cm